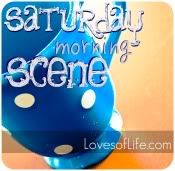 We are linking up with the Lovely Katie, who I'm sure has arrived to her vacation destination by now, and showing you our Saturday Morning Scene.
This girl has a new found love for paper towel
Im not sure the next word I'm looking what exactly are those things called... paper towel Guts???
So here she is with her paper towel guts watching a little Mickey Mouse in the morning, with only one sock on, apparently all the cool kids are doing it!
Happy Saturday